ESSENTIAL AMINO KERATIN LOTION no.
1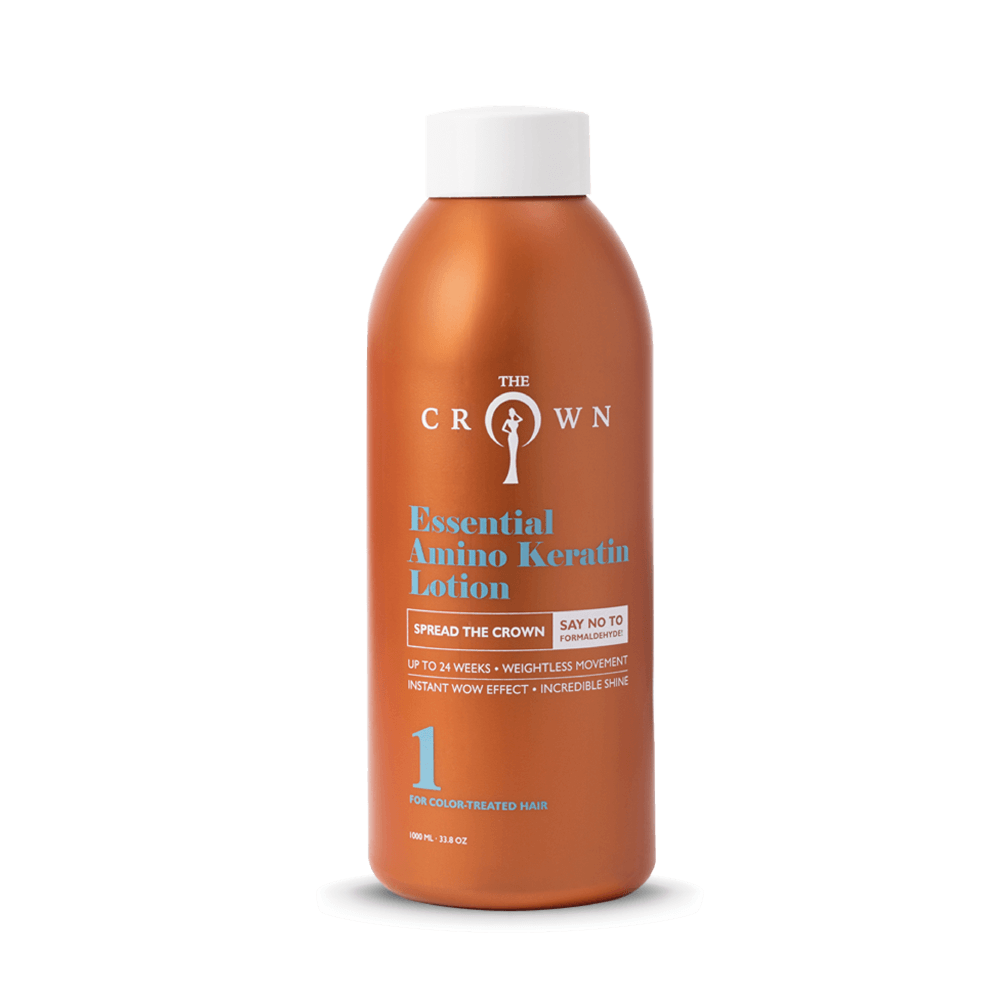 Before starting the treatment, for maximum results and satisfaction, take a few moments to discuss the expectations of the client.
ACRO-CORE is a lotion designed for repairing and straightening color-treated hair based on The Crown's five molecules. Each molecule in the series is produced from a different raw material which is naturally rich in this molecule. The molecular composition of the product was designed so that during use, every molecule would play a significant part, and together they reconstruct and repair the structure of the hair, while providing a straightening effect for healthy smooth hair. The Crown brand is completely free of any forms of Formaldehyde and Aldehyde. The results are perfect for your customer's crown and for your professional satisfaction.
1. CONSULTATION
Begin with a thorough consultation and hair analysis, then choose the right formula to guarantee the best results.
0 for virgin hair.
1 for color-treated hair.
1 Forte for coarse color-treated hair.
2 for relaxed, highlighted or bleached hair.
2. CLEANSE
Thoroughly shampoo the hair twice with THE CROWN Pre-Treatment Shampoo to completely cleanse the hair and remove build-up from the hair and scalp.
3. DRY
Dry the hair with a dry towel, return to the salon chair and blow dry the hair until it is 90% dry.
4. MEASURE SOLUTION
Shake the lotion well and pour the desired amount into a bowl.
5. APPLICATION
Divide the hair into 4 quadrants. Use THE CROWN Applicator Brush/Comb to apply the lotion in ½˝ sections about ¼˝ from the scalp. Allow the hair to process 60 minutes.
6. PROCESS
Allow the hair to process 60 minutes.
7. RINSE
Rinse the hair at the shampoo bowl with lukewarm water. Lightly towel-dry. Rinse out about 70%-80% of the solution.
8. BLOW DRY
Return to the salon chair to blow dry the hair straight using light tension with THE CROWN Paddle Brush.
9. FLAT IRON
With THE CROWN Flat Iron, 410˚F, smooth over each section 8 to 10 times until the hair is straight, smooth and shiny. Be extra gentle when working on fine and or damaged hair.
10. SHAMPOO AND TREAT
Return to the shampoo bowl and cleanse the hair with THE CROWN Post Treatment Shampoo and rinse thoroughly. Next apply THE CROWN Treatment Mask from scalp to ends. Use a wide tooth comb to uniformly spread the mask. Wait 2 minutes and then rinse well.
11. FINISH
To complete the treatment, apply THE CROWN'S Hero (without rinsing, LEAVE-IN) to damp hair. Using the palms of your hands, spread throughout the hair, comb well and dry to 100%.